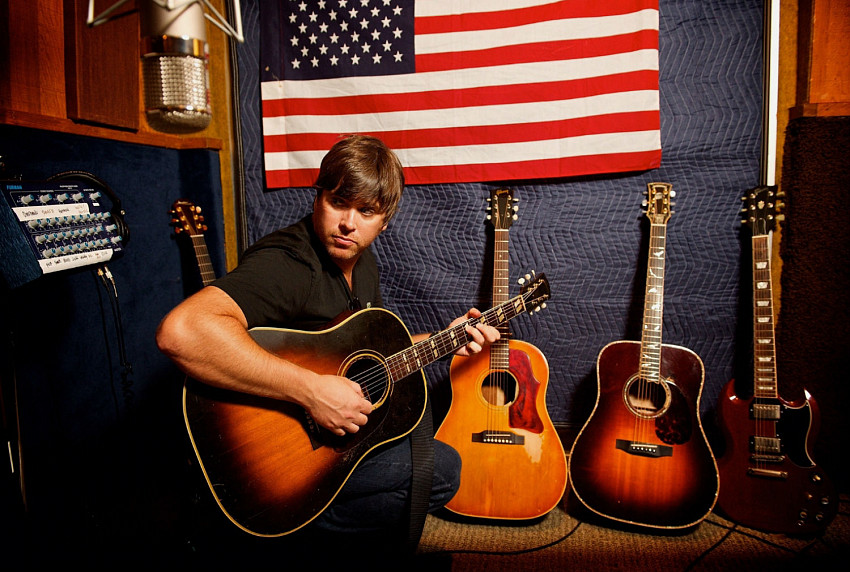 Pat McGee
Pat McGee
"I never expected any of these legends to say yes, but I figured it was worth a shot," says PAT MCGEE about his star-studded new self-titled album. "If nothing else, I wanted them to know that I felt they would have been the perfect band for these songs. I have never been a guy that asked for favors or perks in this business, but on this project I definitely swung for the fences and thought to myself, 'Why not? The worst they can say is 'no'."
Fortunately, the iconic players he had hoped to work with gave him a resounding, "Yes!" The dream team McGee assembled includes musical legends Russ Kunkel, Leland Sklar, Waddy Wachtel, Danny Kortchmar, and Jeff Pevar (nicknamed "The Section"). Other notable musicians such as Little Feat's Paul Barrere, Blues Traveler's John Popper, Train's Pat Monahan, Punchbrother's Gabe Witcher as well as Pat McGee's own band contributed to the album's sound.
Recorded in Los Angeles in 2014, Pat McGee was influenced by the classic albums of the 1970s that were spun in his childhood home. "I was inspired to write a record that was not based on a 'single' but on the wholeness of the complete album," Pat explains. "I was at a friend's house, listening to what I thought was someone's playlist on an iPod. When I realized they were spinning full albums on vinyl, I was blown away. The very next day, I decided to buy a record player and picked up the ten records that lit the fire in me to start playing music, including seminal records by James Taylor, Jackson Browne, and Crosby, Stills, and Nash."
Channeling the vintage warmth of those recordings, he began writing an album that would have the same timeless quality of singer/songwriter rock from the Laurel Canyon scene of the early 70s.
Once McGee had written enough material for an album, he began to wonder what would happen if he reached out to the musicians who helped to shape his ear. An impossible task, he thought, but he decided to throw caution to the wind and go for it. One by one, the pieces started to fit together and each of them accepted his offer. As though the universe had always intended for this record to be made. "You could tell when we got to the studio that all these guys just loved playing with each other," McGee recalls. "From the moment that we played the opening warm-up casual jam, I knew that this was going to blow away anything that I could have ever dreamed."
From the guitar intro of opening track "Bad Idea," the natural connection between the players was obvious, sounding much more like a band who had been playing together for decades instead of being assembled for just one record. In lieu of the modern process of painstakingly tracking each individual instrument, the band jammed. "I would show them my song idea and they would ask to hear the meaning of the lyric, and 10 minutes later, we had a take on tape," he says, still in awe of that process. "We never tracked more than two or three takes before moving onto the next song. In all of these moments, I felt like I was witnessing the creation of an iconic classic rock guitar moment, drum part or bass line-- it was happening right before my very eyes. And the fact that these guys were making it happen on songs that I wrote is just still so unbelievable to me."
The song "Overboard" features a guest vocal from Train's Pat Monahan, and is a perfect example of how things just fell into place for this album, Pat's fourth solo effort and tenth album overall. "I've known Pat since 1996 when Train toured with my band and we've kept in touch ever since. Pat knew how important this album was to me, so he offered to sing on the record." Written for his wife, the song relays the idea of how he tends to go overboard with his feelings for her and his family, at times leading to vulnerable moments. "I was so inspired by listening to those old vinyl records that everything truly just flowed out of me.
Extremely proud of this record, McGee is hard-pressed to choose a favorite track. "I'm sure any artist is going to say this but it's hard to pick a favorite," he says. "Certainly there are musical moments that really put a smile on my face, like the mood of 'Caroline', the vibe of 'Four-Door Dynamo', the funk chops of 'Kite String' and the harmonies throughout the entire album from Patrick McAloon and Jonathan Williams…"
McGee started his professional music career in 1995 as leader of Pat McGee Band, touring relentlessly for over ten years all over the United States, including one stretch doing 98 shows in 103 days. The band, dubbed PMB by legions of adoring fans, sold out venues all over the US and shared stages with The Who, Allman Brothers, Fleetwood Mac, James Taylor, Counting Crows, Rat Dog, Levon Helm & more. Pat McGee Band even performed for President Clinton.
A big supporter of the US military and all that they do, McGee performed for the USO in Greenland as well as in The Middle East and Africa with Navy Entertainment. McGee and his band were also granted the opportunity to land on The USS Eisenhower to play for 5000 brave men and women serving on the Arabian Sea, certainly a career highlight. "My support of the Navy Entertainment and the USO feels, to me, something that every musician or artist or entertainer should be embracing," McGee says. "I did not grow up in a military family, although my father did serve in Vietnam and to know the years he spent away from my sister while she was young is something I can relate to when meeting the troops overseas. These experiences have really shed some light on how incredibly difficult their jobs are. The men and women I've met while doing these tours really inspire you to go home and strive to be a better person."
Reflecting back on this opus he's created with these iconic performers, Pat McGee is proud of what he's accomplished. "It sure feels good to have a record out right now that I want to share with everyone, and not just because they are songs that I wrote," he explains. "I truly believe that all of the musicians that played on this album need to be credited for what they do. That seems to be lost in the modern music listening atmosphere."
"It's not just that these guys are masters on their instruments, because they certainly are that, it's that their natural instinct is to put the perfect part down to whatever song they're working on. That is why they have lasted over 50 years in this business. It's just remarkable that they're such a cornerstone of the sound of the American songwriter," McGee says humbly. These new recordings are an indication that McGee has gained the acceptance and approval of his heros, an enviable feat in modern music.
Pat McGee

1:45 PM-2:45 PM

Sports Court

Deck 13, AFT

Pat McGee

11:15 PM-12:15 AM

Pat McGee

6:00 PM-7:00 PM