Get excited SATS family, we're heading back out to sea! The 7th Edition of Train's Sail Across the Sun cruise will set sail February 17-21, 2023, from Miami to the beautiful Puerto Plata, Dominican Republic. This 4-night celebration aboard our home away from home, the Norwegian Pearl, will bring together a stellar group of artists including Fitz and the Tantrums, G. Love & Special Sauce, Travie McCoy of Gym Class Heroes, comedian Nick Swardson, and so many more!
Sea lions, and dolphins, and sharks—OH MY! If getting up close and personal with aquatic life is on your bucket list, Puerto Plata has you covered. Thrill-seekers can enjoy racing dune buggies through the tropical countryside or zip-lining through lush canopies. Those who prefer a more low-key experience have plenty of options too. Explore gorgeous waterfalls or learn about the rich culture and history of the Dominican Republic!
On board the Pearl, the fun doesn't stop! In addition to the delicious dining options and world-class spa services, you'll have the chance to participate in immersive activities, Save Me, San Francisco Wine Co. tastings with Pat Monahan, and so much more. Multiple can't-miss shows from our SATS lineup will keep you singing and dancing all night long!
Amazing music, gorgeous sunsets, and lifelong memories with the SATS community are waiting for you – join us today!
Ahoy, Vacation!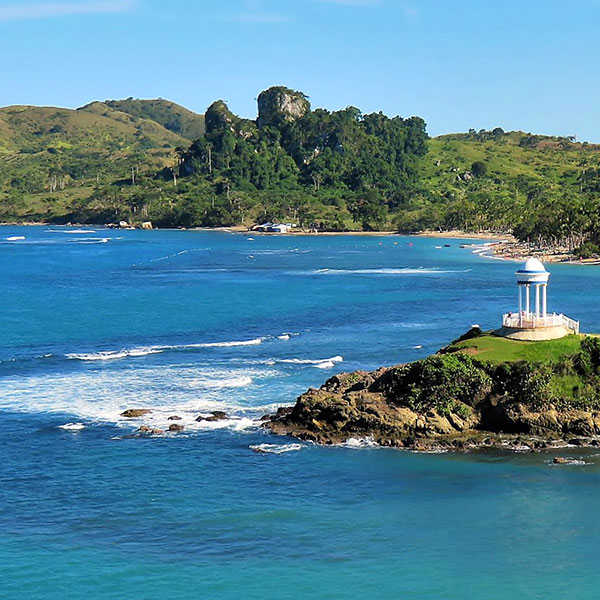 Sunday, February 19, 2023
Puerto Plata (or officially known as San Felipe de Puerto Plata) is the ninth largest city in the Dominican Republic and the capital of the province of Puerto Plata. For spectacular city views, take a ride up the Pico Isabel de Torres mountain which stands over 2,600 feet high. History buff? Visit Fortaleza San Felipe, which was built in the 16th century and served as a prison under the dictatorship of Rafael Trujillo. Or head to the Amber Museum, a museum filled with a unique collection of valuable Dominican amber which is semiprecious tree sap that has hardened for millions of years capturing many fossils of plant and insect life.
Shore Excursions in Puerto Plata, Dominican Republic